Programmes

Programmes for Schools


Faust International Youth Theatre provides challenging and creative workshops that engage our students in the world of theatre and performing arts. We help young people to develop performance skills, theatre knowledge, teamwork, individual expression and confidence.

OUR WORKSHOPS

Look at a particular theme each term. Examples include: improvisation, puppetry, live performance, masks, mime, movement, musical theatre, pantomime, script-work, set design, stage-fighting, story-telling or writing plays
Are designed for young people aged 4 and over, with groups divided according to age
Are suitable for students with an interest in all things theatrical, with or without drama experience
Take place at various schools, usually as part of the school's extra-curricular activities
Are led by practicing professionals and qualified drama teachers and assisted by experienced enthusiasts with all leaders undergoing a thorough selection process and chosen based on their experience and enthusiasm
To join our workshops children must be fluent in English and have reached the required age before the commencement of the term.

Registration is done either through the school's activities coordinator or directly through Faust. If you would like to register in an existing school programme, please contact us for further details.

Once registered, our members receive a Term Schedule which outlines details of workshop content, introduces the group leaders and provides other important information. Parents are kept informed about the progress of the group through regular leader reports, accompanied by photographs of the groups in action. Parents are often invited to an end of term open session to see their children's work. During the course of the year additional productions may be performed.

At Faust, the learning is just as important as the performing and Faust does not exist purely to stage productions. In fact, commitment is the key and those registered should be keen on taking part. We believe strongly that everyone in a performance plays an essential role in the success of a production and emphasise the team effort over the individual.




Some sample workshops include:

Stage Kids (For ages 3 to 4)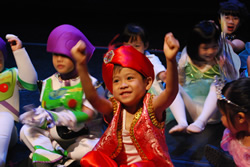 Duration: 60 minutes

Faust brings the razzle-dazzle of the stage to weekly workshops. Using songs, dance and dramatic skills to tell a story, children will get to showcase their efforts at the end of each term in an open session to family and friends, incorporating the children's favourite songs!



Junior Actors (For ages 5 to 7)

Duration: 90 minutes

This series of workshops explores existing stories using a variety of drama tools and media. The students will be transported into the world of the story using their physicality and imagination to create the characters and their surroundings. They will also get the opportunity to bring the story to life from page to stage.



Young Thespians (For ages 8 to 12)

Duration: 90 minutes

This workshop teaches the basics of acting and the positive attitude needed to work as a team. Through collaborative learning, students will be given plenty of opportunities to develop their acting skills while working toward a simple performance.

If you have any questions about these programmes or would like to register, please email us at info@FaustWorld.com.sg or call 6235 3817.



Contact Us Here!