Programmes
Youth Theatre Programme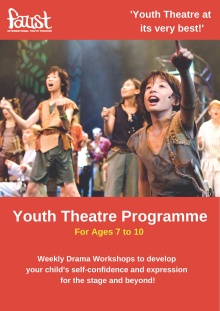 Youth Theatre Programme (Feb to April 2021) Brochure
(PDF)

Click Here to Register!





ABOUT YOUTH THEATRE PROGRAMME

Faust International Youth Theatre programme provides an inclusive space for children ages 7-10 to develop self-confidence and expression. While acquiring drama skills through theatre techniques, children will learn physical, vocal and spatial awareness. They will also discover the importance of ownership in their choices as actors and learn to articulate their thoughts and imagination.

As well as being professional theatre directors and actors, Faust Leaders are theatre educators in local and international schools, bringing the best theatre and drama education in Singapore.

In this term, we will be learning Choral Speaking! As an ensemble, we will work with our favourite poems, explore the different themes portrayed, and learn to deliver these poems using creative vocal and physical expressions.



"My child would come home and talk to me about what she learnt and the happenings of each class. She would also be very excited to come to class!"

– Faust Parent, December 2020





PROGRAMME DETAILS

Before our programme begins, you will be sent a term schedule outlining what your child will be doing, and at the end of the term, you will be emailed a workshop report sharing some of the activities in the programme.

Different themes are explored. Examples include improvisation, mime, movement, script-work, set design, storytelling or play writing to name but a few!

Performance Skills & Knowledge
Expressive use of voice and vocal projection
Creative physical movement and ability
Being in the moment and stage awareness
Understand different points of view and empathy
Appreciate and understand different styles, genres, practitioners and more from the wonderful world of theatre!
YOUTH THEATRE PROGRAMMES
Age Group
7 to 10
Time
12.30pm to 2pm
Dates
6 February to 17 April, Saturdays (No session: CNY Break on February 13th)
Total Number of Sessions
10
Total Cost of Programme
$850 (Usual price of $1,000). Returning students can enjoy a discounted fee of $750*.
Discounts

10% discount

if you recommend a sibling/ friend
*inclusive of GST




WORKSHOP PRECAUTIONARY MEASURES
All students and parents are required to wear a face mask upon entering and exiting our studio
All students are required to have a temperature check
Students must wash or sanitise their hands before entering the studio. We will provide hand sanitisers in our studios, please use them as required
We ask that if your child has a fever, cough or any other indications of being ill that you do not bring them to the workshop that day
Warm up exercises and staging will adhere to the 1m apart guidelines
Students will only be allowed water or beverages and not consume snacks during break time.
HOW TO REGISTER

To reserve your child's place in our Youth Theatre programme, please click here to complete our online registration form.



NEED HELP?

If you have any questions about our Summer programme or would like to sign-up for more updates, please email us at Info@FaustWorld.com.sg or call 6235 3582.