Programmes
Early Years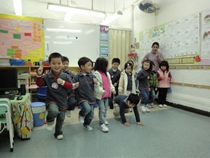 Faust offers various programmes specially tailored to pre-primary aged children. These can either be one-off or a full term of workshops on a given theme that suits the needs of the kindergarten or learning centre. Read on to see what we have offered recently!
STORIES WORKSHOP:
Organised as a one-off workshop for children aged 4 to 5, this workshop looked at story-telling and sequencing. The leader led the children through a story adventure, role-playing characters and using their imaginations to consider what might happen next. The workshop was tailored to support a unit of inquiry in the school's curriculum and so helping children to broaden what they were already learning in school.
THE ACTOR'S INSTRUMENT:
This workshop explored the different tools at an actor's disposal - body, voice, and most importantly, imagination. Using a variety of drama games we developed awareness of how to take on different characters and how to use our bodies to support this. This was a very physical workshop which got the body and the mind moving. At the end of the workshop children shared a short mime piece with the rest of the group.
MOVEMENT & DANCE WORKSHOPS:
Faust has offered specialised dance and movement workshops for young children exploring such themes as 'Earth and Water' or looking at different dance styles. Movement work is a great way to introduce children to drama and performing as it gets them moving and immediately promotes creative expression. Young children who are not yet ready for text-based drama exercises often respond well to movement workshops.